New Case Studies Show Schools, Libraries and Health Care Providers Play Key Role in Broadband Expansion and Adoption
"With their own laptops, they can do their homework anytime. And then, all of a sudden, you see the homework, you see the projects being done, and the scientific research symposiums that they're applying to. You see them taking it a little bit further with the scholarship applications." – MESA Director, Skyline Community College, CA (Foundation for California Community Colleges partner)
In 2010, as part of the Broadband Technology Opportunities Program (BTOP), NTIA awarded more than $450 million in matching grants to establish or upgrade public computer centers and initiate innovative broadband adoption programs in underserved communities. Four years later, that investment has resulted in more than 3,000 new or improved public computer centers and produced 600,000 new household broadband subscriptions.
These grants complement the $3.4 billion in infrastructure investments from NTIA that have enabled BTOP grant recipients to connect more than 21,000 community anchor institutions with ultra-fast broadband, including 2,400 medical and health care providers, more than 1,300 libraries, and 8,000 K-12 schools.  BTOP has provided a significant down-payment on President Obama's ConnectED initiative to link all schools to high-speed Internet by 2018.
Schools, libraries, and health care providers were pivotal in making this rapid expansion possible.  These anchor institutions already had close ties to their communities, recognized the enormous benefits high-speed Internet affords, and possessed skilled staff to organize classes and broker learning resources. 
Today at the Schools, Health & Libraries Broadband (SHLB) Coalition annual conference, we released four more of the 15 case studies that detail the impact of the BTOP public computer center and sustainable broadband adoption awards.  The case studies were conducted as part of an evaluation contract by independent research firm ASR Analytics.  With this release a total of seven studies  are available to the public. 
The institutions profiled in the case studies include community colleges, a historically black university, and two nonprofit organizations that work with K-12 schools, first responders, and health care providers.  The following is a snapshot of the projects featured in the reports released today and information on the impact they are having in their communities:
At Florida A&M University, a university that has historically served African-American students, a new BTOP-funded Center for Public Computing and Workforce Development serves Tallahassee and surrounding counties.  The center features 80 new computers with broadband Internet connections, internal wireless access, and interactive video conferencing technology being used to provide both college classes and training for area businesses.  A major focus of the center is assisting small and disadvantaged enterprises, including construction companies and website developers.  Senior citizens, middle school students, and summer campers are also learning new skills, from Photoshop and Google search to how to apply for college.
The Foundation for California Community Colleges (FCCC), a nonprofit that works with two-year colleges throughout the state, used BTOP funding to provide computer training, laptops and wireless cards for low-income and minority students enrolled in the Math, Engineering, and Science Achievement (MESA) program.  Each participating student was required to teach a computer skill to at least seven people from his or her home community, such as how to send emails or use Skype.  Program participants were able to use their teaching experience to bolster their resumes.  Students also earned more than 1,100 certifications in Microsoft Office programs and used their laptops to apply for jobs, internships, and admission to four-year colleges.  FCCC created more than 9,000 new broadband subscribers.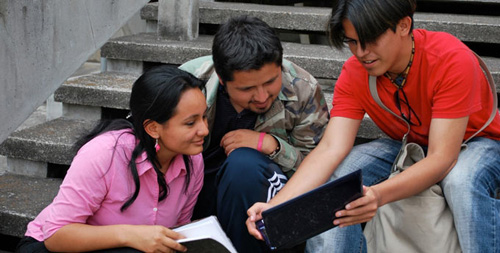 Foundation for California Community Colleges helps students become digital literacy trainers and provides them with a free new laptop/tablet to help them share their skills with local community members.
Connect Arkansas, a nonprofit established by the state legislature in 2007 to promote broadband adoption and deployment, targeted its BTOP investment in the state's 57 poorest counties, where 23 percent of adults have not finished high school.  The project focused on using broadband to improve education, entrepreneurship, and health care, since the economy of rural Arkansas depends on a population that has the skills and vitality to compete for jobs. 
Connect Arkansas reached into schools to connect with low-income families, providing free computers and training to more than 1,000 students, along with their parents or guardians. Leveraging a broadband mapping grant from NTIA, the program also worked with 11 Internet service providers to match low-income families with discounted Internet access.  And it offered entrepreneurship classes in 144 high schools to teach students how to build websites and business plans.  In addition, Connect Arkansas collaborated with the University of Arkansas for Medical Sciences to train more than 4,000 healthcare professionals in the use of telemedicine, a critical resource in rural and high-poverty areas. 
Finally, the Future Generations Graduate School, located in Franklin, West Virginia, took an innovative approach to promoting broadband use and adoption in rural areas by establishing public computer centers at 60 local fire stations serving largely poor and mountainous areas of the state. The fire stations received BTOP-funded laptop computers and broadband access in return for opening their facilities to area residents.  First responders also used the new computers to complete online training and update their certifications, saving time and travel costs. The stations also used the computers to file required incident reports online.  As of December 2012, more than 37,000 people had used the new centers to connect with friends and family, apply for jobs, upgrade their skills, and promote their businesses. 
All 15 ASR Analytics case studies report on five key impact areas of broadband adoption and use:  Workforce and Economic Development; Education and Training; Healthcare; Quality of Life/Civic Engagement; and Digital Literacy.   The studies, which are extensively documented and include research references, provide quantitative summaries of relevant data on training and participation in BTOP activities.   The remaining reports will be released in the weeks ahead.  Together they will help serve the needs of the research and policy communities for years to come, as we apply the lessons of BTOP to build the nation's broadband capacity.