Digital Learning Program Prepares Students for School, Careers and Life in the 21st Century
Today is Digital Learning Day, a nationwide celebration of the innovative use of technology in education to improve learning and prepare students to succeed in college and careers in the 21st century.  
The Obama administration recognizes the critical importance of digital learning to our nation's future.  Just yesterday, the White House announced over $750 million in private-sector commitments to supply free software, devices, home wireless connectivity and professional development support for teachers. These pledges bring us an important step closer to achieving the President's ConnectED goal to get ultra-fast Internet connections and educational technology into K-12 classrooms nationwide.
NTIA has already enabled major advances in connecting schools to broadband and building the foundation for digital learning both in the classroom and beyond. Through our Broadband Technology Opportunities Program (BTOP), NTIA invested in roughly 230 projects nationwide to expand access to and use of broadband. Our network infrastructure projects are linking approximately 10,000 educational institutions to high-speed Internet. Our digital literacy training and broadband adoption programs are ensuring that teachers, students and parents have the skills and resources to take advantage of these high-speed connections. And our public computer center projects are providing Internet access to those who don't have it at home.
Through these investments, NTIA has witnessed first-hand how technology can expand access to instructors, classes and curriculum materials for schools with limited resources; provide engaging online content and virtual teaching aids to supplement lesson plans and homework assignments; and serve as a platform to teach students the digital literacy skills that are so critical to success in today's information-age economy.
One organization leading the way is CFY, a non-profit that used BTOP funding to provide digital literacy training, digital learning assistance and computers for low-income middle school students and their families in high-poverty schools in New York City and Los Angeles.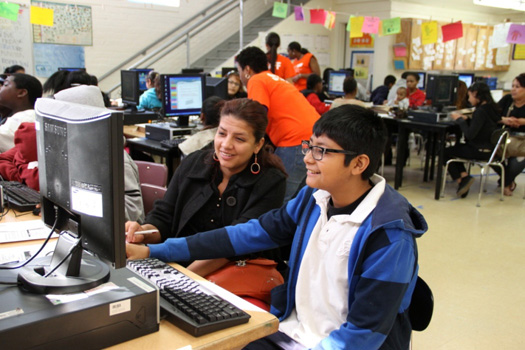 The CFY program at Markham Middle School in Los Angeles.
Launched in 1999 in one South Bronx neighborhood, CFY today is a national model for digital learning. It offers workshops that teach students and parents how to use the Internet to access online educational resources that promote learning in subjects such as math and reading. The program also trains families on its own free digital learning platform, PowerMyLearning.org, which helps teachers, students and parents find thousands of carefully selected academic activities, videos and games from across the Web that are designed to make learning fun.
Families who complete the CFY training receive a refurbished computer loaded with educational software to take home, along with assistance in signing up for affordable broadband and access to 24/7 bilingual IT helpdesk support. These resources extend student learning past the school day, improve communication between parents and schools, and more fully engage parents in the learning process.
Teacher training is another important component of the CFY program. CFY coaches teachers on how to incorporate digital content – including the PowerMyLearning platform – into lesson plans and homework assignments. This helps enrich the curriculum for all students, and gives teachers valuable tools to customize instructional materials for kids at different learning levels. With online learning activities tagged by subject, grade, academic standards and other categories, CFY's PowerMyLearning platform is now in use in more than 19,000 school communities nationwide.
Thanks to BTOP funding, the New York City Department of Information Technology and Telecommunications and the New York City Department of Education expanded the CFY program to 75 schools. The funding also enabled CFY to bring its program to 42 schools in the Los Angeles Unified School District.
NTIA is proud of our role in supporting CFY and other successful digital learning programs across the country. Others that have received BTOP funding include Tech Goes Home in Boston; Learn Ideas, Navigate Knowledge (LINK) in Miami; and Youth Policy Institute in Los Angeles. Like Digital Learning Day and the White House ConnectED initiative, all of these programs recognize the power of modern technology to transform education and open up new opportunities in school and in life for all American students.