This blog is part of a new "Spotlight on NTIA" series. We'll be highlighting the work that NTIA employees are doing to advance NTIA's mission of promoting broadband adoption, finding spectrum to meet the growing demand for wireless technologies, and ensuring the Internet remains an engine for innovation and economic growth.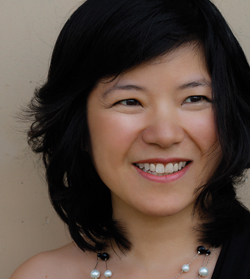 Many people spend their working lives in one career. Emy Tseng, a program officer with NTIA's Broadband Technology Opportunities Program (BTOP), is working on three. Tseng has worked at NTIA since it launched BTOP in 2009. But working to expand broadband adoption and digital literacy wasn't her first calling.
After graduating from Brown University with a math and physics degree, Tseng went to work as a software engineer. After years of working with technology, she decided she was more interested in working on ways to provide access to new technologies. In 1999, she left her job to obtain a degree in technology and policy at the Massachusetts Institute of Technology.
The degree eventually led her to San Francisco, where she landed a job with ZeroDivide.org, an organization aimed at promoting digital inclusion. She went on to lead the City of San Francisco's efforts to close its digital divide.