Report from the Field: Digital Summer Jobs for Chicago Youth
Guest post by Matthew Guilford of the City of Chicago
The SmartChicago Sustainable Broadband Adoption project is developing innovative approaches to drive broadband adoption in Chicago. The project is funded by BTOP, managed by Local Initiatives Support Corporation/Chicago, and is a part of Chicago Mayor Richard M. Daley's Digital Excellence Initiative.
A major component of this sustainable broadband adoption project is to engage youth, not only as the next generation of broadband subscribers, but also as drivers of broadband adoption for their families. The Digital Youth Summer Jobs (DYSJ), a program made possible by the SmartChicago project, is providing technology-oriented employment and training to 120 underserved youth as well as outreach activities to 120 parents or caregivers.
DYSJ is already having an impact on Chicago's future innovators. This summer, 60 youth from the Smart Communities program were placed in technology-oriented jobs at over 30 work sites. I connected with Raven, a rising high school senior who worked this summer at Columbia College in Chicago, to understand how the DYSJ program has impacted her engagement with technology and her career goals.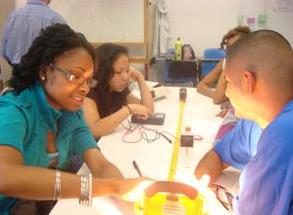 Digital Youth Summer Jobs student participants learning about technology and digital media during their summer internship at Columbia College in Chicago.