Blog
Fri, April 23, 2010 by NTIA
The BTOP Compliance/Environmental Team marked Earth Day yesterday by accepting the 2010 Department of Commerce Environmental Stewardship Award from the Commerce Department's Director for Administrative Services Mary Pleffner and Deputy Assistant Secretary for Administration John Charles. This annual award recognizes outstanding achievements of Department employees for efforts that significantly contribute to, or will promote, environmental stewardship.
BTOP was selected to win this award for its development of a model program to meet National Environmental Policy Act (NEPA) requirements under severe time and logistical restraints. Though the Recovery Act required NTIA to get BTOP up and running under a compressed timeline, from day one we've been dedicated to ensuring that our grants meet all federal compliance standards.
Congratulations to the Compliance team for their commitment to environmental stewardship and earning this award!
Mon, April 5, 2010 by NTIA
Welcome to the NTIA blog on our updated broadband programs web site. This site will be the best source of current information about NTIA's Broadband Technology Opportunities Program and the State Broadband Data & Development Grant Program. Take a look at the projects that have been awarded in your state or territory by exploring the map on the Grants Awarded page.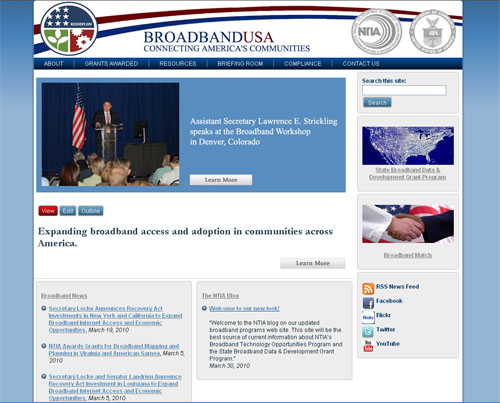 BTOP's second round application window just closed, and we are no longer accepting new BTOP applications. We're tallying up all the Comprehensive Community Infrastructure, Public Computer Center, and Sustainable Broadband Adoption applications we received in the past several weeks and will be adding them to the searchable application database shortly, so check back soon.