Blog
Thu, April 29, 2010 by Angela Simpson, Senior Policy Advisor
This week marked the announcement of the final BTOP Round 1 grants. "Last, but not least" certainly describes these awards. Among them are some very meritorious last mile infrastructure projects in Idaho, Kentucky, Oklahoma, Virginia, and Washington. In Puerto Rico, we are funding a project that will enable broadband providers, anchor institutions, and government entities to band together to deploy a wireless middle mile network across the island, enhancing access and reduce costs. In addition, the final Sustainable Broadband Adoption grant of Round 1 is a strong, comprehensive 31-state project to educate, connect, and help close the digital divide in low-income communities across the nation.
Overall, BTOP Round 1 involved 82 grants for $1.2 billion in federal funding. Almost every state in the nation will be impacted by these awards – either in terms of improved broadband capabilities, access to broadband at new or improved public computer centers, or by way of broadband education and training. Beneficiaries include rural areas, urban areas, tribal areas, low-income areas, the public safety community, the educational community, small businesses, minority businesses, and those with disabilities. We look forward to building on this strong foundation in the coming months.
Work is already well underway in processing Round 2 applications – input is coming in from states and tribes, and existing service providers are letting us know about the areas they serve. There won't be any down time here at NTIA this summer, but we're energized by the unique opportunity the Recovery Act provides to make significant near-term improvements in the country's broadband landscape.
Angela Simpson is an adviser to the Assistant Secretary on broadband
Fri, April 23, 2010 by NTIA
The BTOP Compliance/Environmental Team marked Earth Day yesterday by accepting the 2010 Department of Commerce Environmental Stewardship Award from the Commerce Department's Director for Administrative Services Mary Pleffner and Deputy Assistant Secretary for Administration John Charles. This annual award recognizes outstanding achievements of Department employees for efforts that significantly contribute to, or will promote, environmental stewardship.
BTOP was selected to win this award for its development of a model program to meet National Environmental Policy Act (NEPA) requirements under severe time and logistical restraints. Though the Recovery Act required NTIA to get BTOP up and running under a compressed timeline, from day one we've been dedicated to ensuring that our grants meet all federal compliance standards.
Congratulations to the Compliance team for their commitment to environmental stewardship and earning this award!
Mon, April 5, 2010 by NTIA
Welcome to the NTIA blog on our updated broadband programs web site. This site will be the best source of current information about NTIA's Broadband Technology Opportunities Program and the State Broadband Data & Development Grant Program. Take a look at the projects that have been awarded in your state or territory by exploring the map on the Grants Awarded page.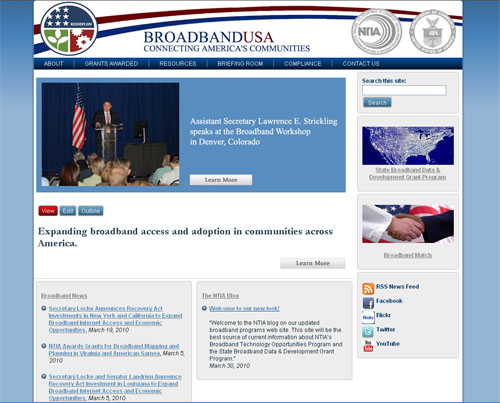 BTOP's second round application window just closed, and we are no longer accepting new BTOP applications. We're tallying up all the Comprehensive Community Infrastructure, Public Computer Center, and Sustainable Broadband Adoption applications we received in the past several weeks and will be adding them to the searchable application database shortly, so check back soon.